March 14, 2014 Interview With Seth Poole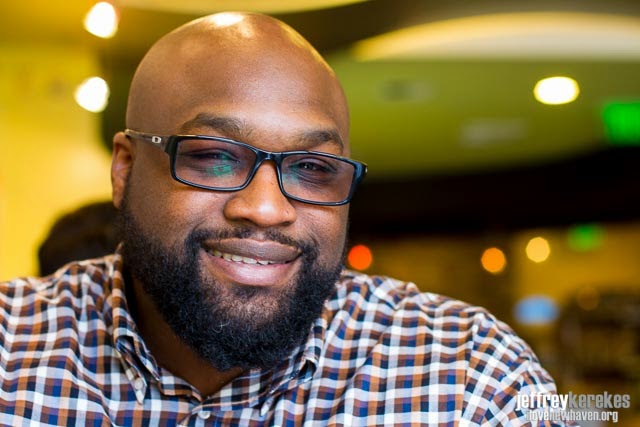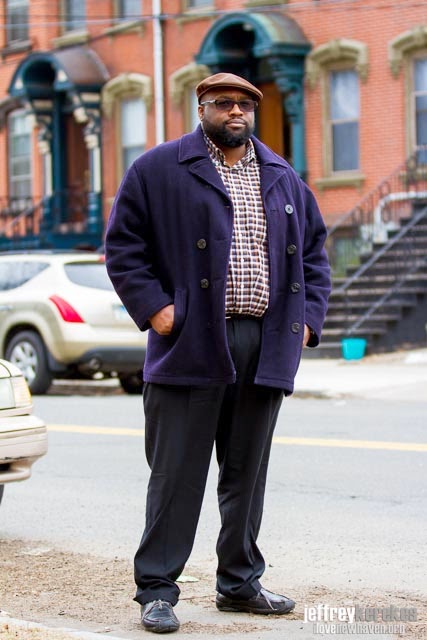 "I got ambushed" says Seth Poole. Thus began his recruitment into the New Haven Weight Loss Challenge. His goal is to get back to his high school weight of 20 years ago. Along with increasing the frequency of his meals to five times a day, he has been focusing on reducing bad carbs and increasing his activity. "I love pizza", he notes, "It's the number one thing I miss." He said as a side note, that it almost feels "un-New Haven" to skip pizza.
I checked in with Seth a number of times over several weeks to check on his efforts as well as to meet him at the gym at 6:00am one morning to take pictures of him exercising. By participating in the weight loss challenge and making his efforts public here on I LOVE NEW HAVEN, Seth hopes to be a tipping point for others in their late 30s.
March 25, 2014 Personal Training with Solomon Maye at Elephant In The Room Boxing Gym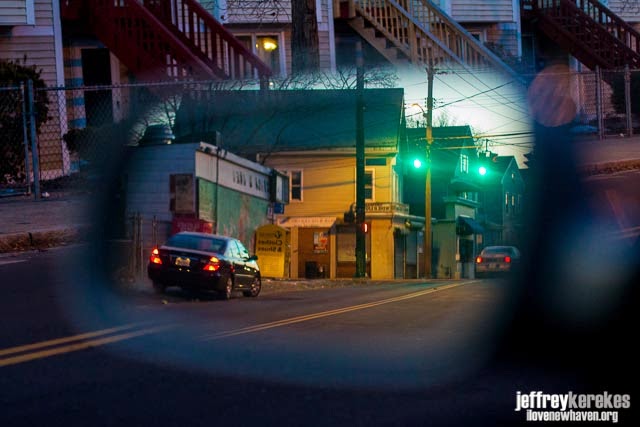 Waiting for the gym to open at 6am. Yes I LOVE NEW HAVEN enough to get up for photos.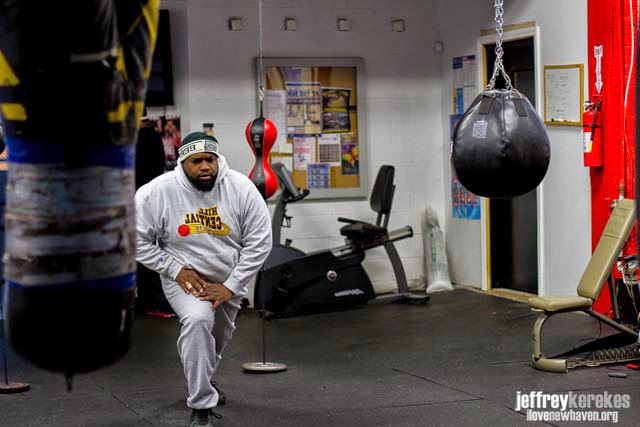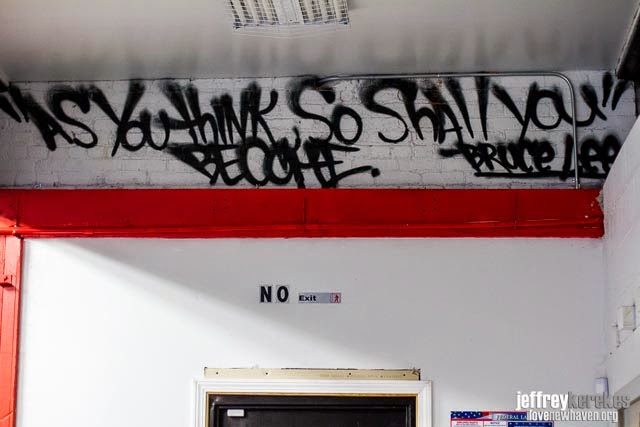 "As you think, so shall you become." Bruce Lee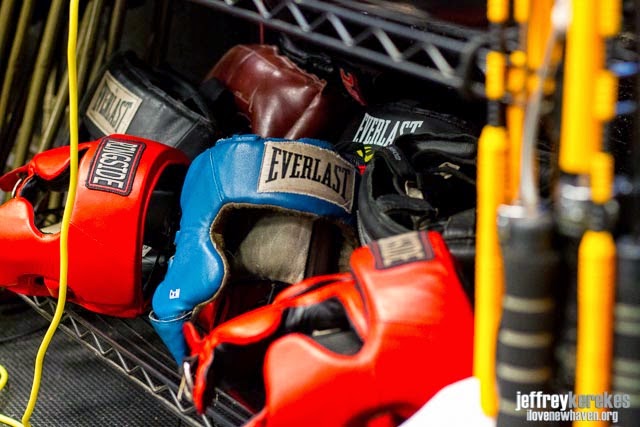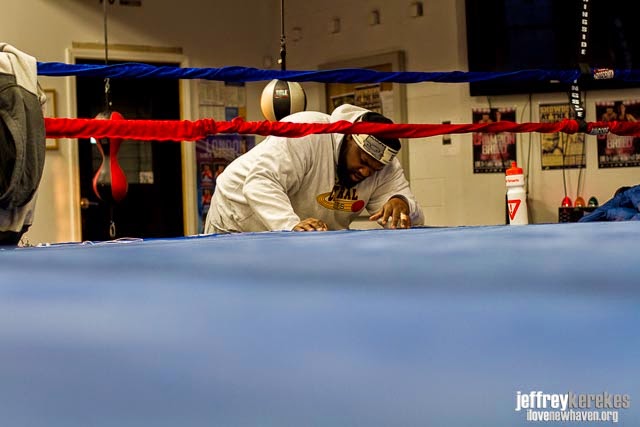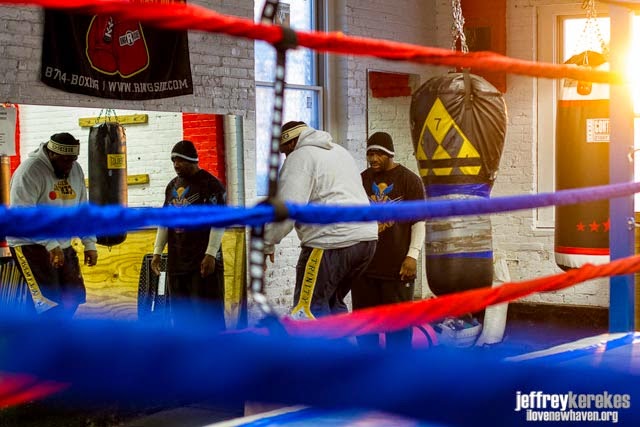 Seth Poole, left, doing step ups, with trainer Solomon Maye, right.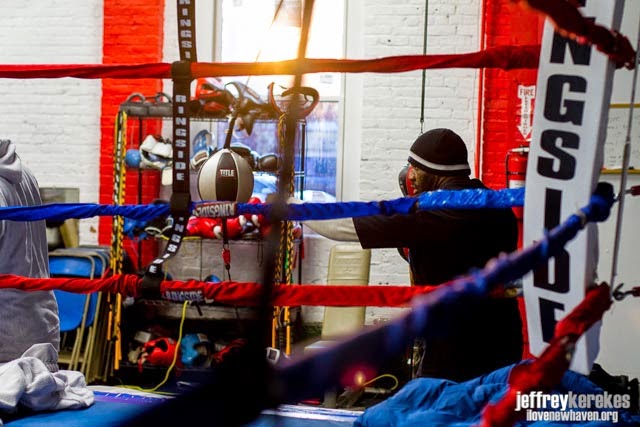 Seth's trainer is Solomon Maye at the Elephant In The Room Boxing Gym. Seth laughs, "He's kicking my ass." Seth was active in high school and college sports, having played track and field at Wilbur Cross High School and football and track at Trinity. "I hope to change my habits so I can have more energy and have kids". The doctor told him, that for a big guy, he was in magnificent health.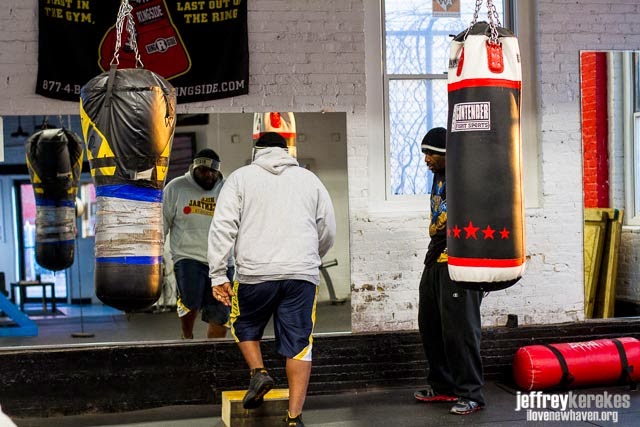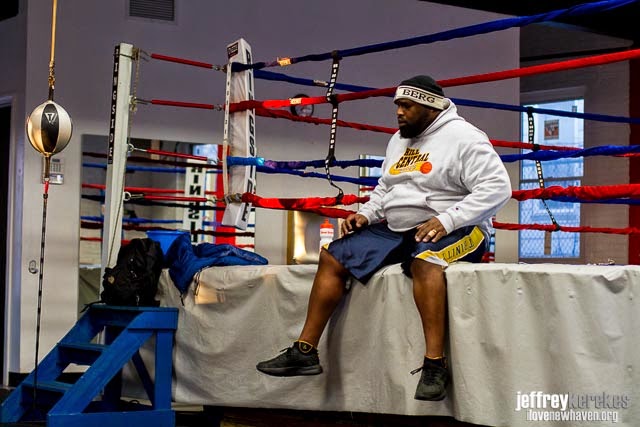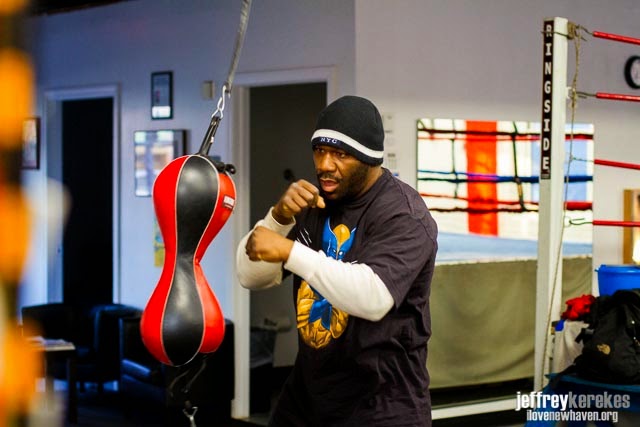 Solomon Maye, a professional heavy-weight boxer serves as Seth's trainer.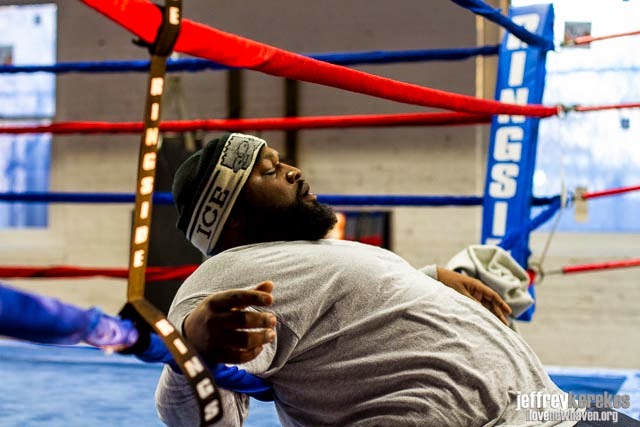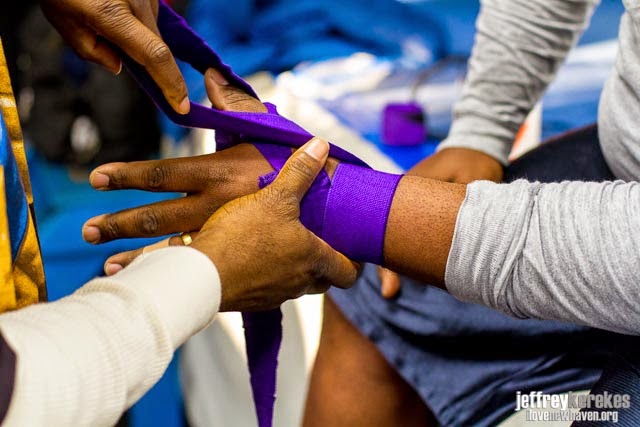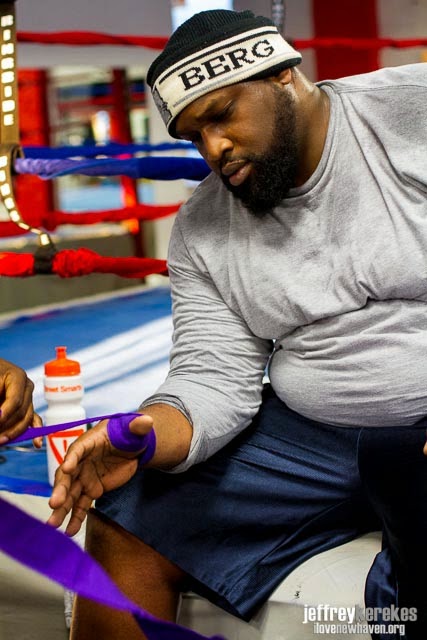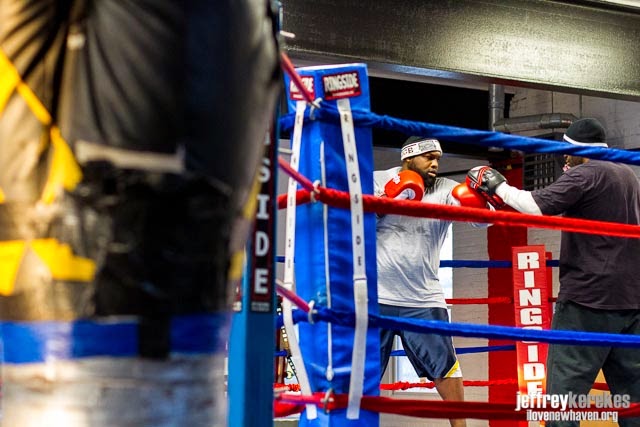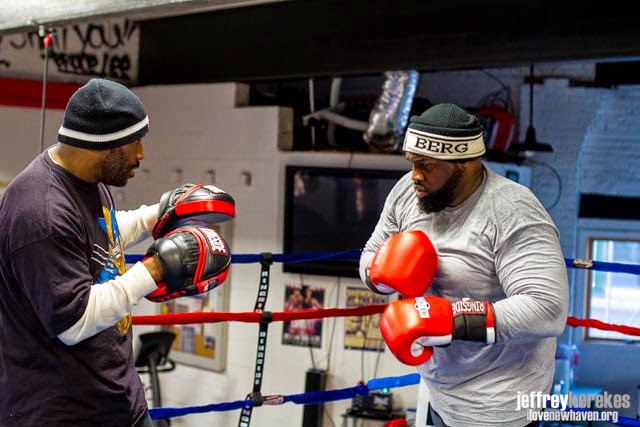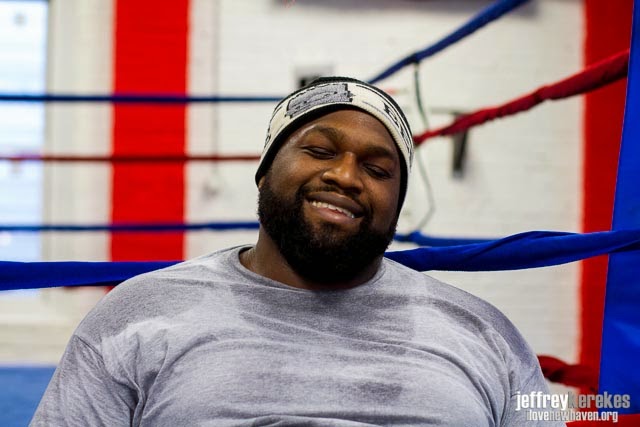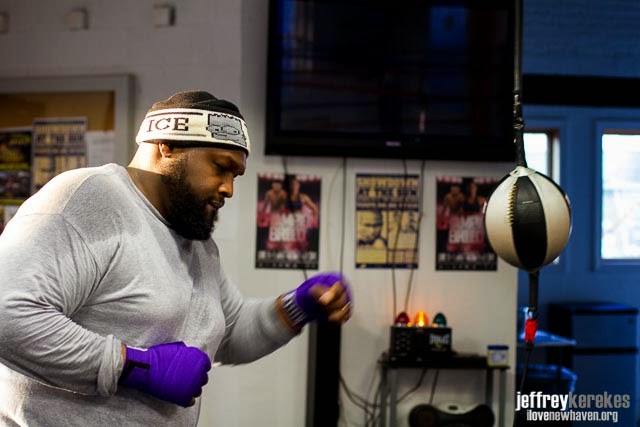 April 02, 2014 Physical Activity workgroup of Get Healthy CT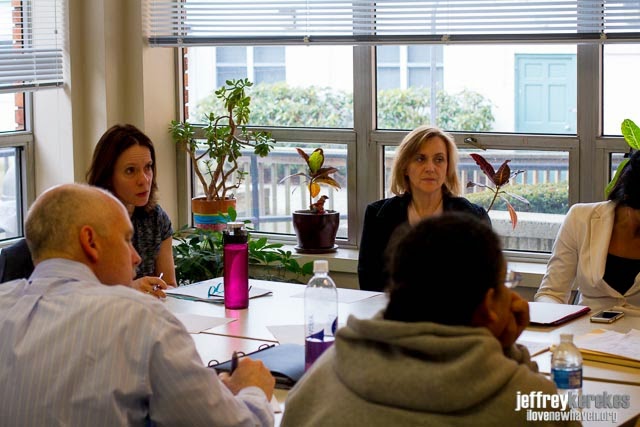 Augusta S. Mueller, far left, facilitates planning meeting for Get Fit Day.
Get Healthy Connecticut (www.gethealthyct.org) is a grant funded program based on a volunteer collaboration of organizations that began in Bridgeport. The website is a directory of free resources that people can take advantage of to get healthy. I attended this planning meeting for the Get Fit Day which took place on the New Haven Green.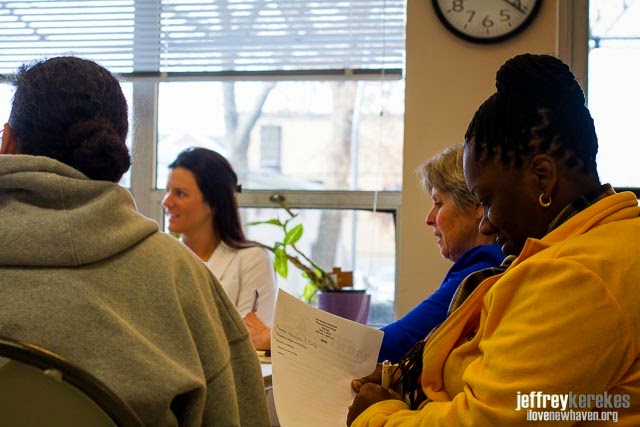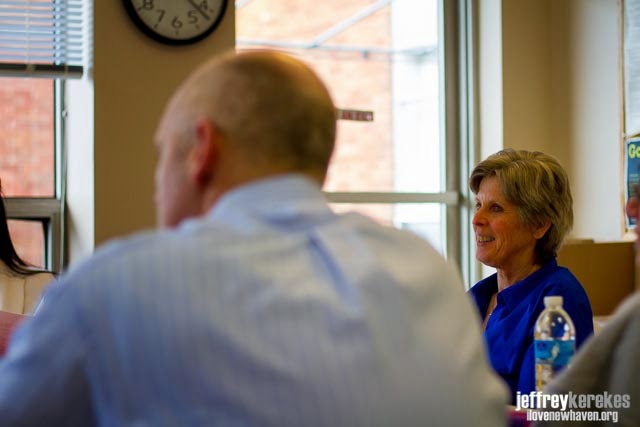 April 05, 2014 Get Fit Day On The New Haven Green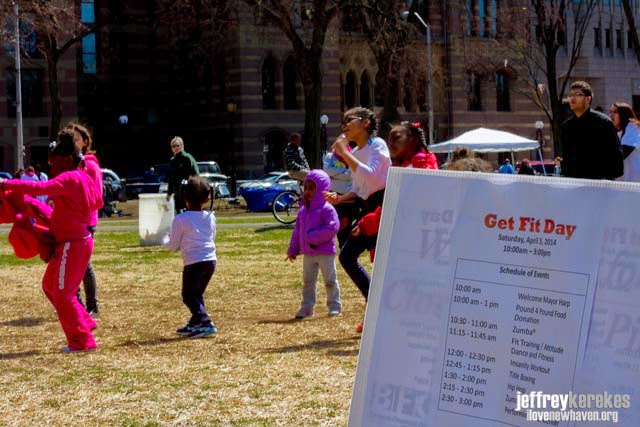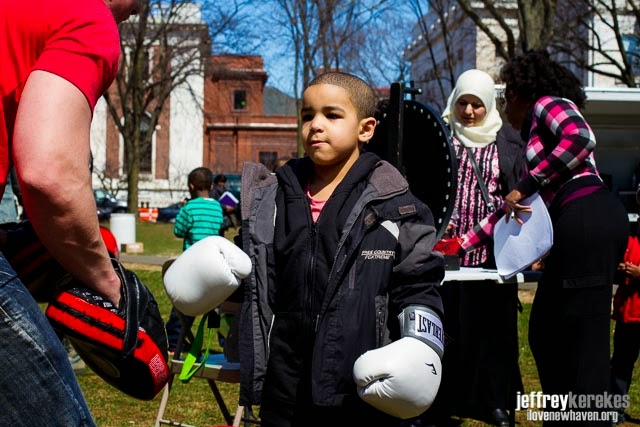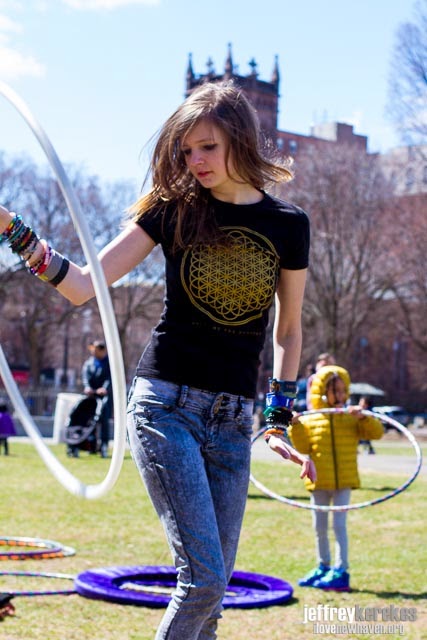 Tanner Chase of the West Haven Hoop Guild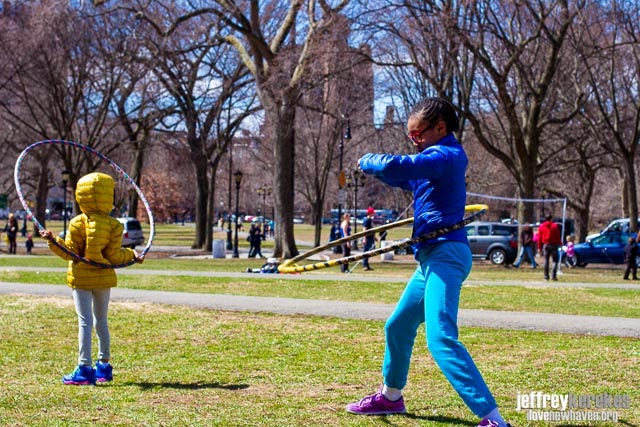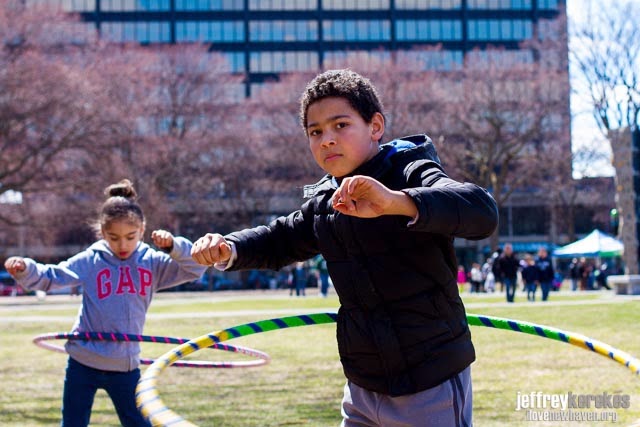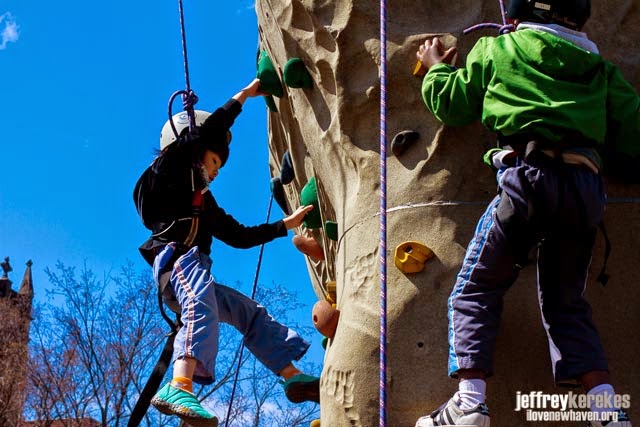 May 16, 2014 Follow Up Interview
He has been maintaining 15lbs down. He hasn't been able to get to the gym in 2.5 weeks. He's trying not to "shy away from green things that grow". Inconsistencies in his work, life and community schedules have been throwing things off. He's been at work at 7am and with meetings after work home after 8pm. Seth is active not only at home and work, but within a number of roles in the New Haven community.
As of May 12, 2014, a total of 2,345 pounds have been donated to the weight loss challenge. There are approximately 90 individuals and organizations participating.