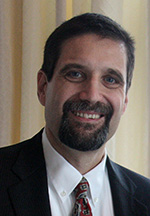 Article and photographs by Jay Juliano
Website:  www.journeysthrumylens.com
Cheryl and I decided to venture down to New Haven, CT and photograph the meeting places of the most well known secret societies of Yale's University. They are, in order of prominence, Skull and Bones, Scroll and Keys, Wolf's Head.


Skull and Bones "The Tomb", 64 High St., New Haven, CT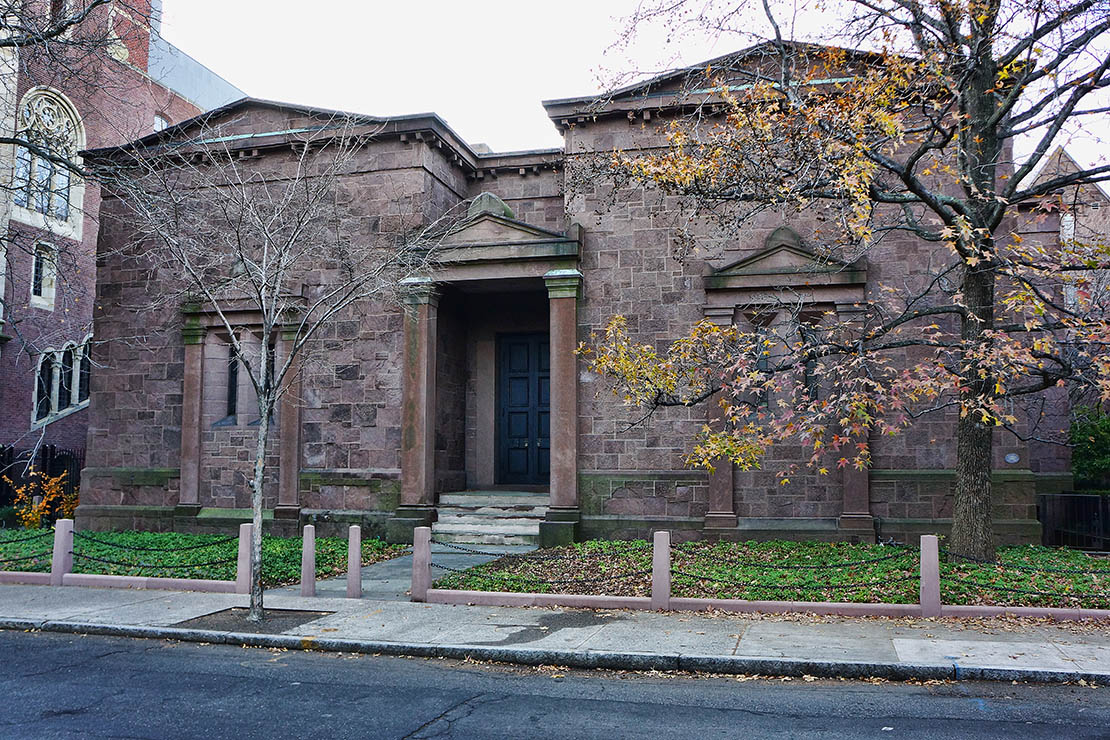 Skull and Bones was founded in 1832.  Members of some of Yale's better known
debating societies were in a dispute and decided to begin their own society.
Shown to the left is the meeting place, (typically Tuesday and Thursday
evenings), of Bonesmen at the Tomb since being built in 1856.  A second wing
was added in 1903 and a "gothic" tower was added in 1911 at the rear of the
building overlooking the garden. The fraternity, for lack of a better word,
was created initially to be a boys club for the potential power elites of
the senior class.  That criteria has probably changed very little over the
past 156+ years with the exception of the admission of women.  In 1992 by a
a majority vote of alumni Bonesmen women were allowed membership. You could
not apply for membership.  The only way in was to be "tapped", while in your
junior year, for admission into the society during your senior year.  Every
year about (200) hopefuls would assemble, usually on the Branford College
lawn, knowing that only (15) would be chosen.  If you were one of the
fortunate fifteen you would be tapped on your shoulder and asked if you
accepted to which you'd reply yes or no.  If yes you'd run off to a chosen
room followed by a Bonesman usually dressed in a navy blue suit with a black
tie. Who would typically be chosen?.  From my research it appears that
legacy students (those whose parents were Bonesmen) had a good shot.  Those
with exceptional grade scores, intelligence and academic success were
considered. In addition those students who may have come from great family
wealth and success were on the list.  However, unusual, stand out athletes
were not overlooked.  The main criteria was that these were students who
would enter the working world with a potential that far out shined the
average man or woman.  You may think that is a lofty expectation but if you
look at the who's who of Bonesman the list certainly lived up to the hype.


The following is a short list of notables who were in the society:


Henry Luce (1920).  Founder and publisher of Time magazine.
President William Howart Taft (1878). Our 27th President.
President George Herbert Walker Bush (1948). Our 41st President,
WWII fighter pilot and past Director of the CIA.
Senator John Kerry (1966).  Massachusetts Senior Senator and
Presidential candidate in 2004 but lost to George W. Bush. Kerry also is the
husband of Teresa Heinz who was married to H. John Heinz, III until his
untimely death in 1991.
George "W" Bush (1968).  43rd President of the United States and
46th Governor of Texas.


Scroll & Key Tomb, 444 College St., New Haven, CT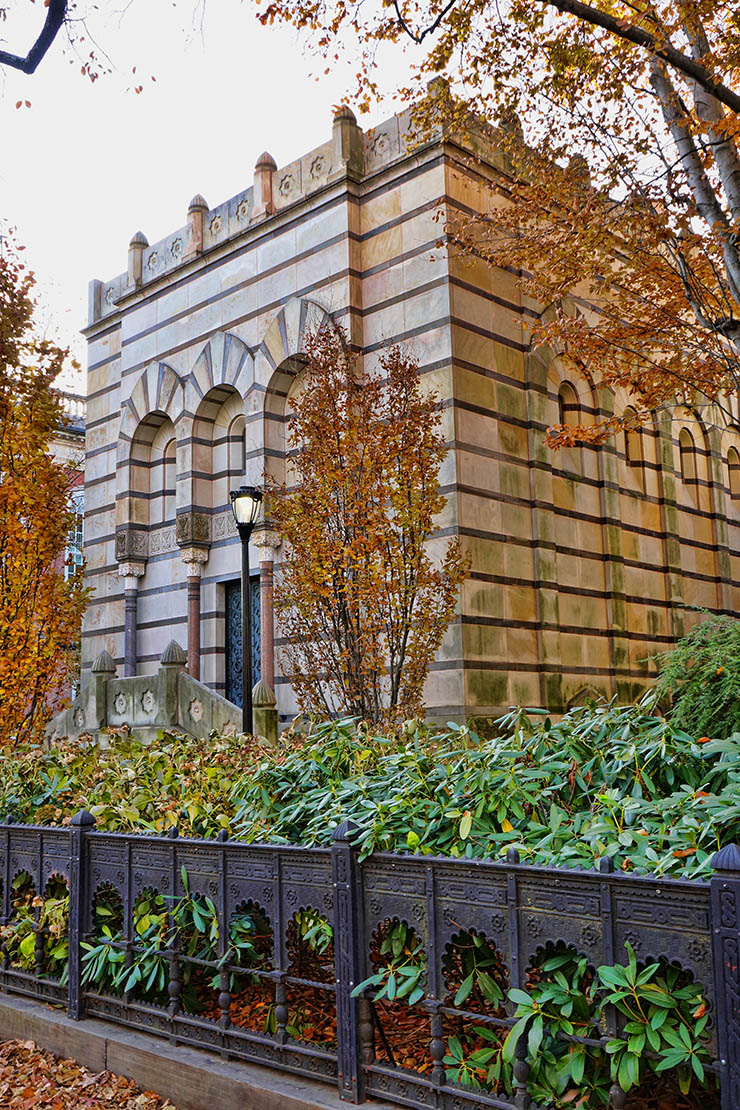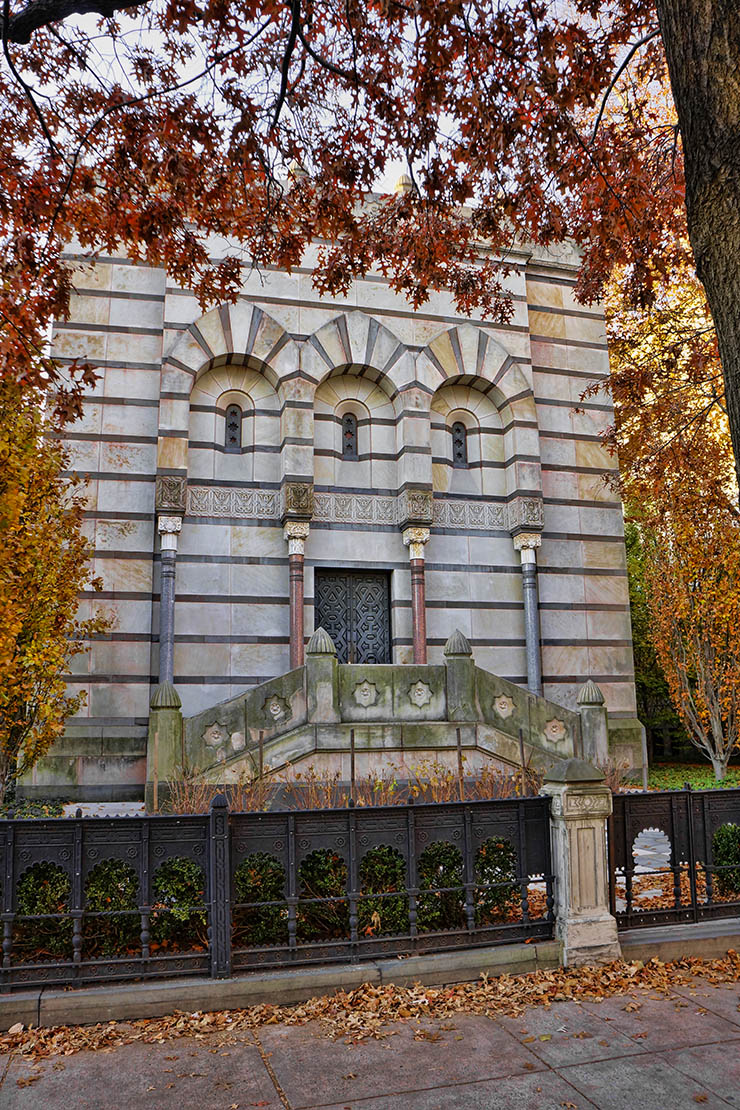 SCROLL and KEYS: Shown to the left and right is the meeting place for the
Scroll and Keys secret society. This society was founded in 1843 over
disputes involving elections to the Skull and Bones. This fraternity seems
to mirror that of Skull and Bones with respect to: 1) same meeting times on
Tuesday and Sunday, also tap (15) new members each year, 3) similar
selection criteria. Scroll and Key had difficulty in the early years evening
meeting their (15) new member requirements.  That has changed as the years
advanced and Scroll and Bones has taken its place amongst the Big 3 secret
societies of Yale.  Not only is the fraternity the 2nd oldest but it
arguable the wealthiest of all the societies.


In 1989 Scroll and Key went co-ed.  This was met with resistance by many
alumni but then current Yale President and Scroll and Key alumni  Bartlett
Giamatti  refused to ever visit the society again unless women were
admitted.  Since that time both men and women fill the ranks of Scroll and
Key. The following is a short list of notables that were in the society:


Sargent Shriver (1972). Vice Presidential Candidate
Cornielius Vanderbilt, III (1895).  Vanderbilt heir.
Stone Phillips (1977). Yale football captain, 20/20, dateline NBC.
Benjamin Spock (1925). Baby and child care activist and author.
Cole Porter (1913). Song writer.
Gary Trudeau (1970). Doonesbury Cartoonist.


 Wolfs Head, 210 York St., New Haven, CT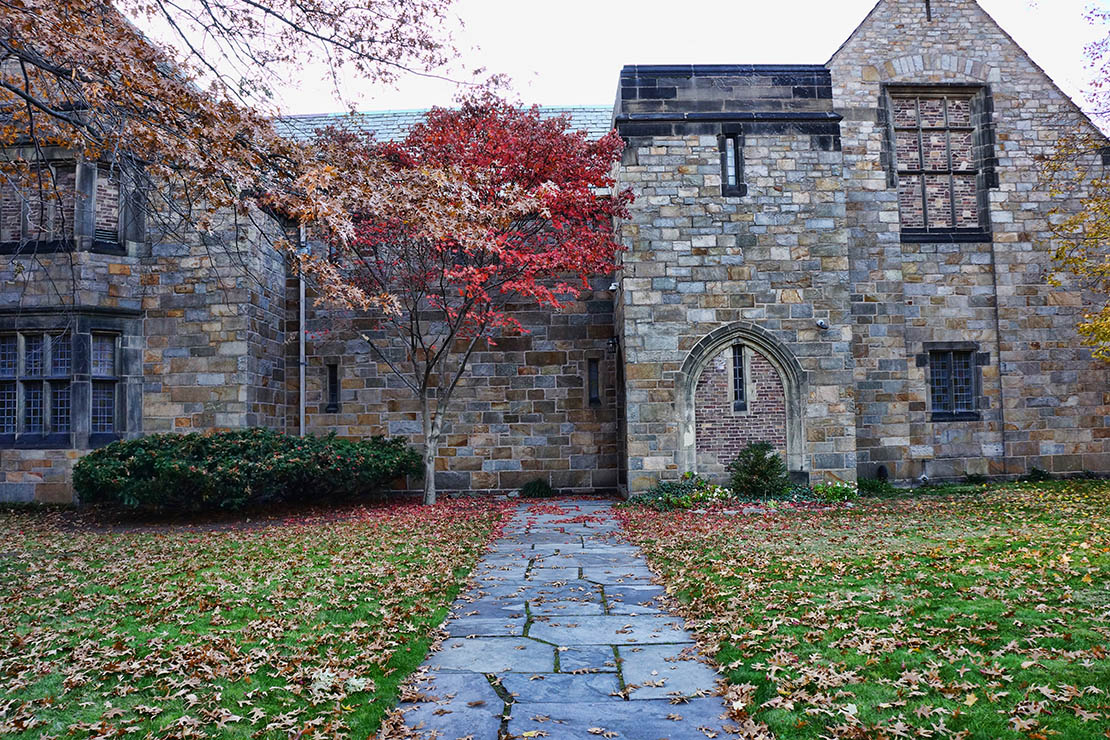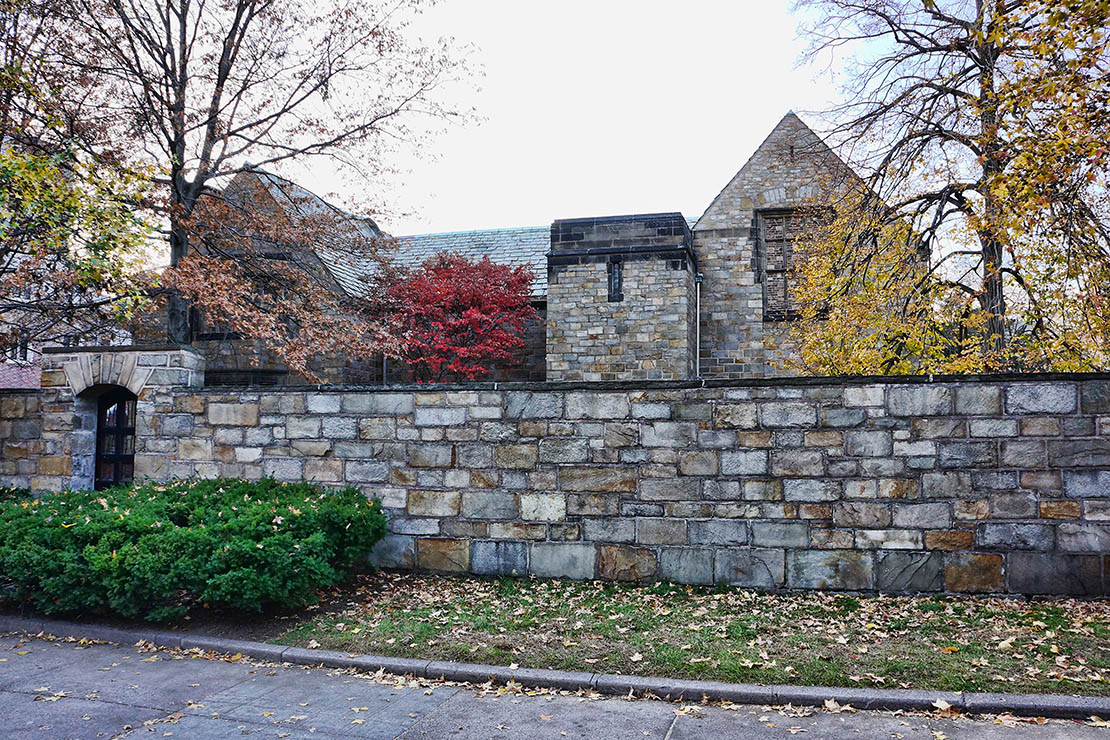 WOLFS HEAD:  In 1884 fifteen members of the junior class who were possible
candidates for the Skulls or the Keys decided to start The Third Society.
This later became known as Wolfs Head.  It's is believed to have originated
in an effort to remove dominance and power from the Skull and Bones. The
images to the left are where members have met for years.  The building is
hidden by a six foot high stone wall on all four sides and does not draw
your attention from the street.  I took the first photograph by squeezing my
camera lens into a small opening in the front iron gates (not visible in
picture).  It allowed for a closer look at the building itself.


The Wolfs keep some lofty company with the Yale daily news to their
immediate left and the Yale school of drama to their right. It appears to me
that all three secret societies are very similar in the way that they
conduct themselves.  They all seem to share similar goals and objectives and
seek similarities in their membership. For a list of those students that
were tapped in 2012 for 2013 member please to this link:<a
href="http://yaleherald.com/bullblog/secret-society-2013-who-they-are-and-ho
w-they-got-in/">http://yaleherald.com/bullblog/secret-society-2013-who-they-
are-and-how-they-got-in/


In my research I came upon a Skull and Bones society at Penn State
University.  This apparently is not affiliated with the original Yale Skull
and Bones nor is it an offshoot.  The Skull and Bones secret society is not
active in any colleges or universities other than Yale.


BOOK and SNAKE.  Grove Street.  Across from the Cemetery.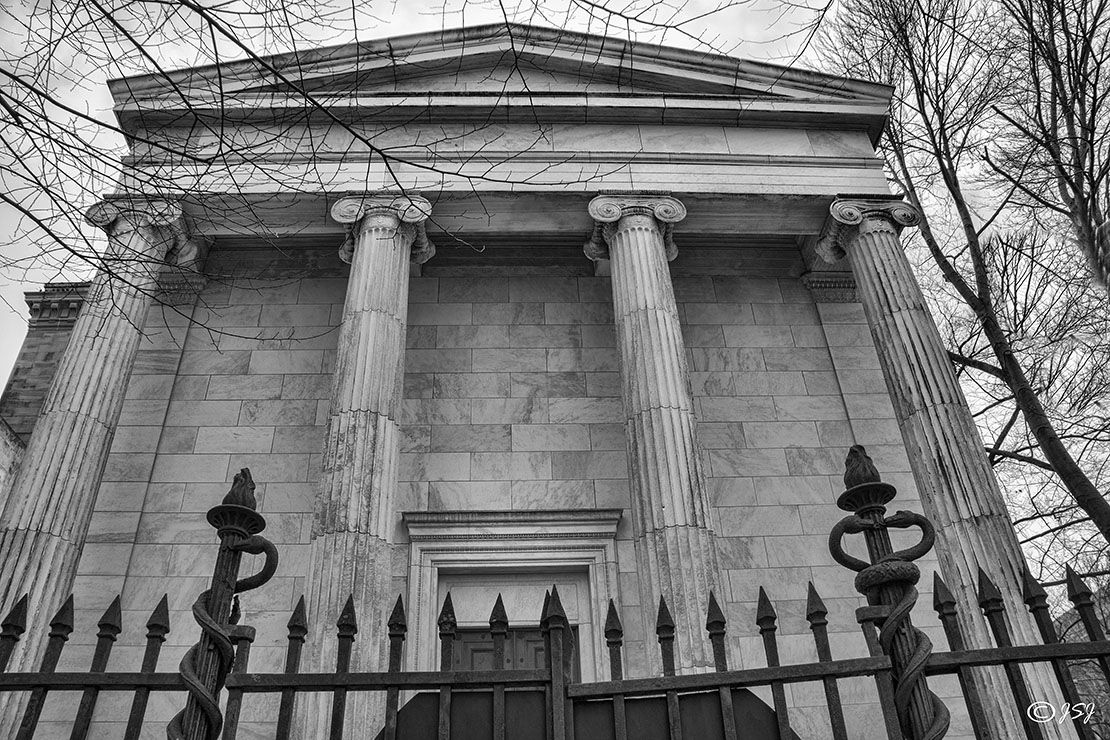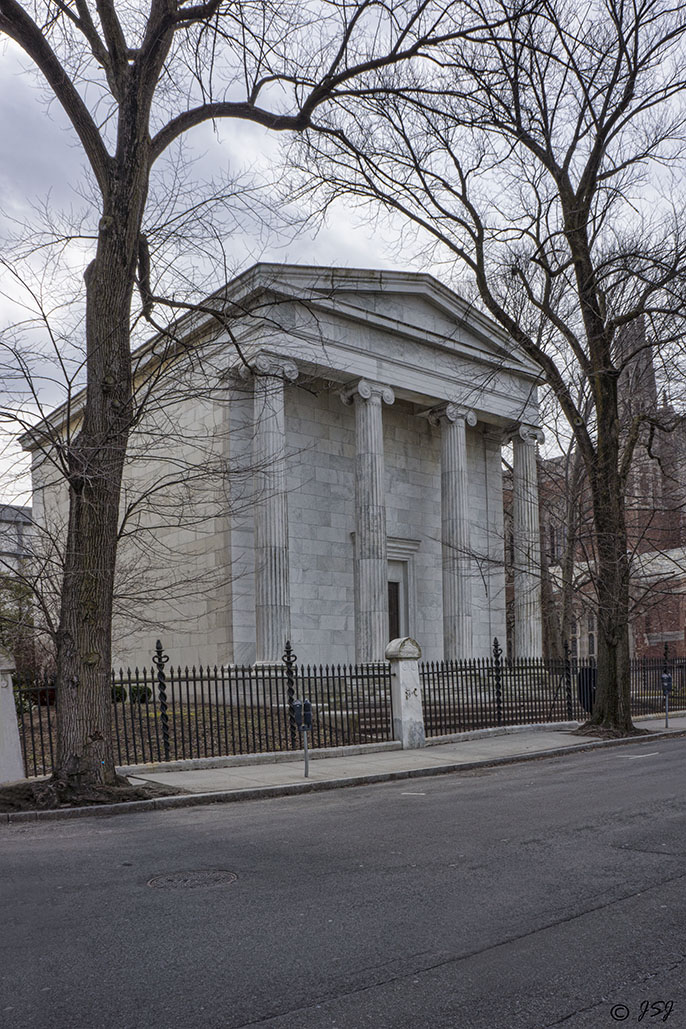 This is the fourth oldest secret society at Yale.  It was
founded in 1863 at the Yale Sheffield Scientific School.  This was
originally a three year society however in 1933 they transitioned to a
"senior society" or "final" (meaning last year).  Many of the senior
societies "tapped" 15 students each year for membership however Book and
Snake would tap (8) men and (8) women. They would meet once or twice weekly
at the tomb shown to the left.


BERZELIUS. Trumbull Street between Whitney and Temple.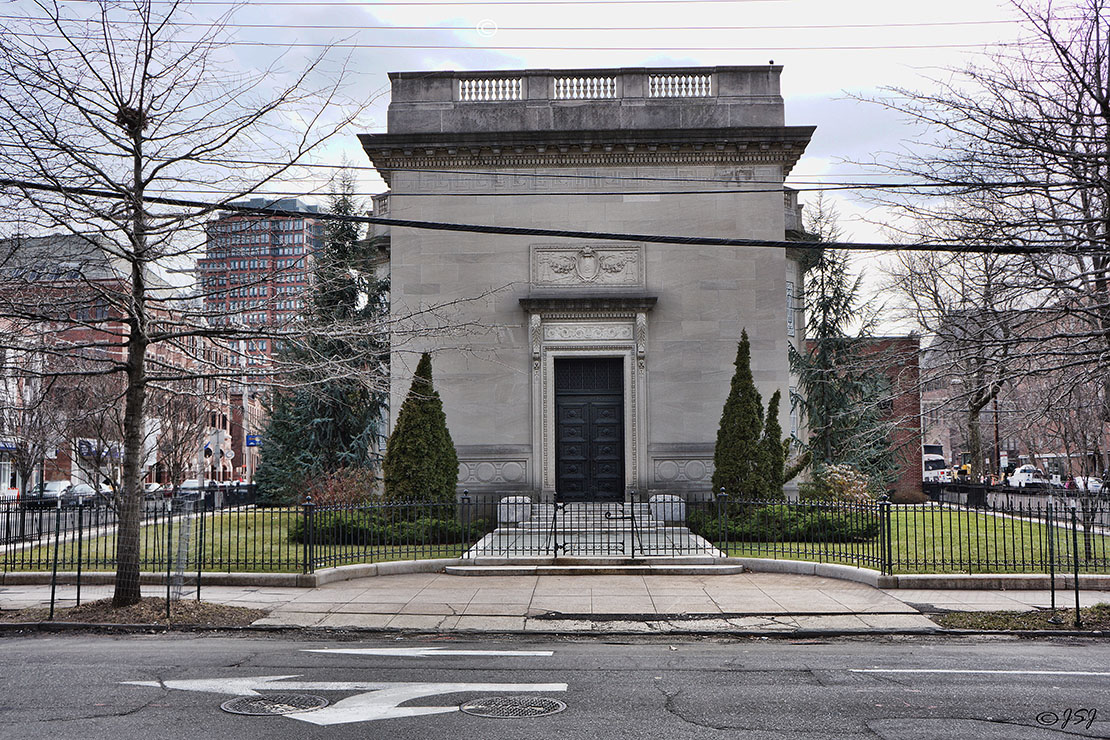 Founded in 1948 this is the oldest of the secret societies at
Yale. Like Book and Snake the society was originally founded as part of the
now defunct Sheffield School of Science and Engineering.  This "college"
fully integrated with Yale University in 1956.  Steeped in many of the same
traditions as the above societies Berzelius members hold dear the famous
exhortation of Socrates, "The unexamined life is not worth living". Shown to
the right is the meeting place of Berzelius members.


I found very limited information on Book and Snake or Berzelius.  I guess
they've honored the tradition of "secret".