This summer, 25 entrepreneurs, company founders and innovators from 16 different African countries have come to Yale to learn and network. And party.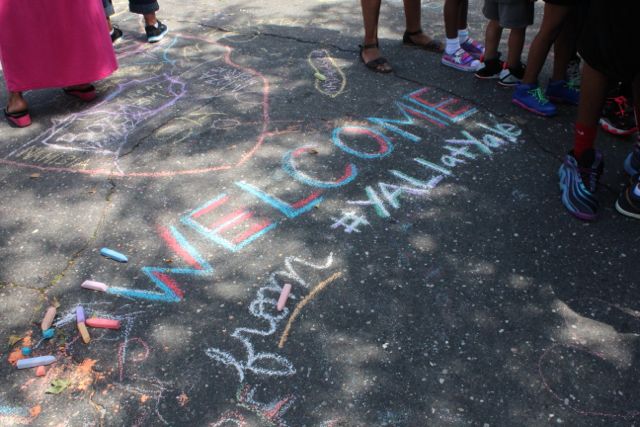 I've gotten to know the Washington Fellows pretty well, and I can assure you, if their resumes aren't impressive enough, their warm and dynamic personalities will blow you away.
Monicah Tenai empowers disabled women in Kenya and runs the sign language department in the largest informal settlement in Nairobi.
Willy-Conrad Asseko Allogo heads a transport company in Gabon and mentors youth through basketball. Here he is with fellow Lebron James fans.
At their day jobs or volunteering, the Fellows contribute to their fields in groundbreaking ways and invigorate their communities. (You can read about what each of them doeshere.)
Over the past four weeks, the Washington Fellows have met a number of local entrepreneurs. They participated in the International Festival of Arts and Ideasinnovation tour of Ninth Squareand spent two days generating ideas and exploring design thinking at Yale'sCenter for Engineering Innovation and Design. The Fellows have also participated in a number of community service efforts.
Here's Sheick Omar Bittaye, a sales and marketing manager from the Gambia, with Christina Kane ofThe Grove, who partnered with the Washington Fellowship to plant trees downtown.
In addition to being incredible leaders, the Fellows know how to get down.
We had our Block Party at the Stetson library because we wanted the Fellows to experience a New Haven as well-rounded as they are–not just the amazing entrepreneurs, but everyone, from the DJs to the neighborhood police force to the kids…
I think it's safe to say the Washington Fellows <3 New Haven.
Ifeanyi Awachie is a coordinator at theWashington Fellowship for Young African Leaders at Yale, the flagship program of President Obama's Young African Leadership Initiative. She photographed the Washington Fellowship'sBlock Partyat Stetson Library on July 9th. Want to learn more about the Washington Fellowship? Starthere.