Lately,
I have been focused on creating posts about individual artists and
musicians on ILNH. I hope these posts serve as celebrations of people in New Haven that are endlessly
creative and forging their own paths. It has been fun getting to
spend sometime with each person. I hope it's been fun for you, the
reader, too. This week I'm posting some photos and text from my visit
and email correspondence with New Haven's Noe´ Jimenez. Come along
and look through his new studio space and hear from him about his
work, New Haven, and art.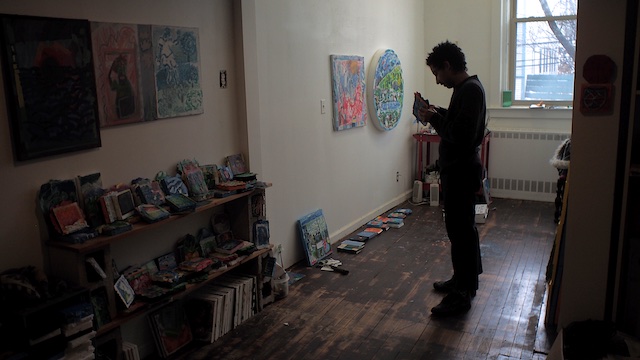 Noe´ working on a piece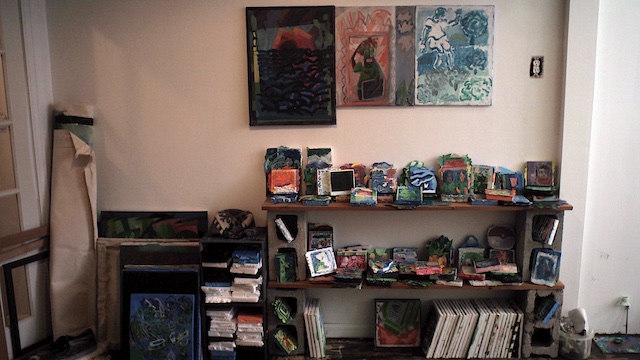 Some work stored on shelves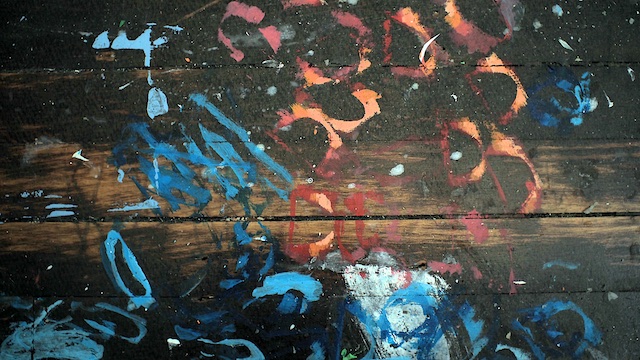 a glimpse at the process
DV: What sort
of work are you making these days?
NJ: I have
been alternating between making small, about 5 a week, and large
paintings. I've found it really useful to work in a variety of
scales. Often learning new ways to duplicate gestures in small work
to larger scales. Being able to see results in smaller pieces faster
has been really exciting. I go on to larger projects with more
confidence.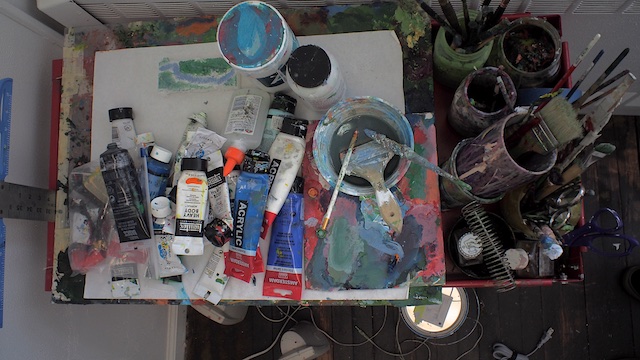 Tools of the trade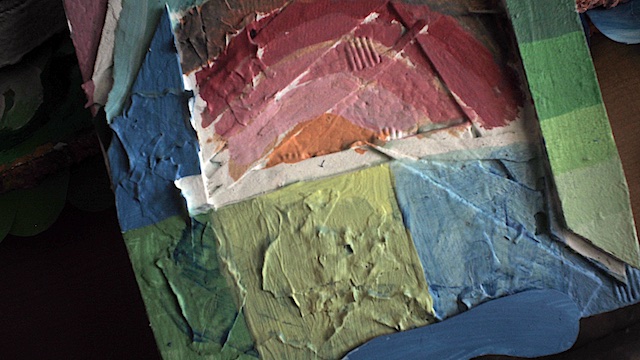 Close-up of a painting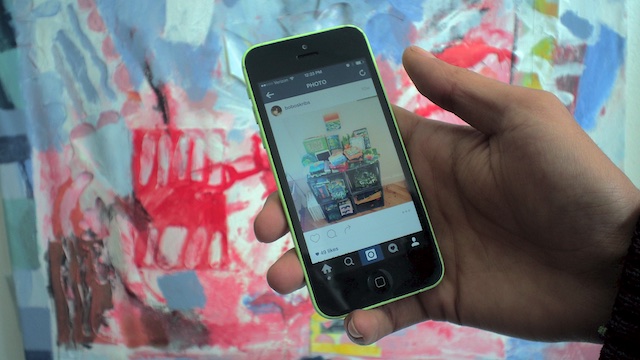 Some of Noe´s previous work on Instagram
DV: Why live
and make art in New Haven?
NJ: I lived
in New Haven when I was younger. I have a lot of memories from that
time period. My work has always been informed by the kid inside of
me. Being in a place that reminds me of that which inspires me the
most is a plus. I also enjoy being connected to nature. I think it is
important to my work. It's also easy to get to New York city. I
prefer to live outside a metropolis and get to enjoy it when I need,
instead of being in the middle of it.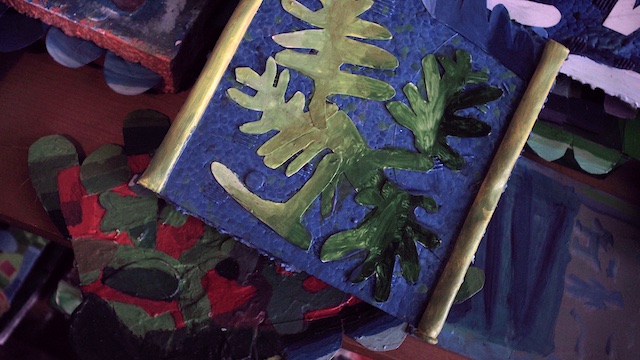 One of his finished pieces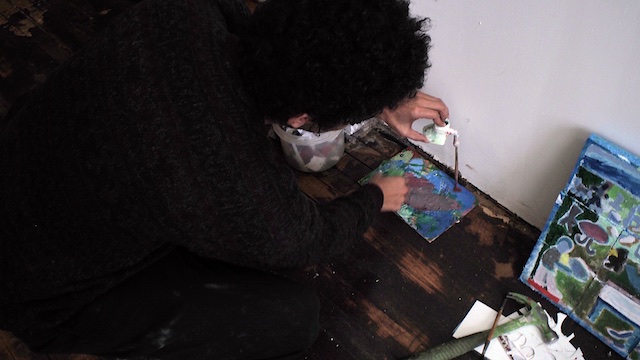 A work in progress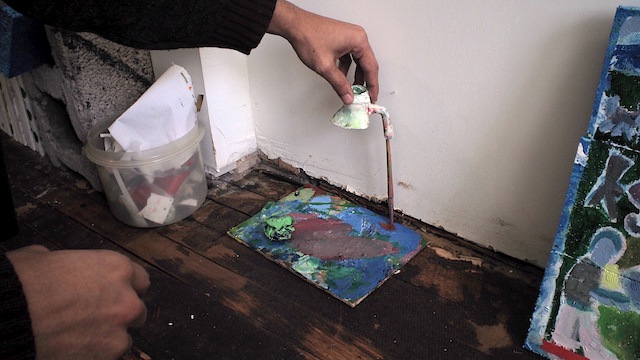 DV: What
part of New Haven's art scene are you excited about right now?

NJ: I am
really excited about what is going on at the No Pop Gallery on Park
Street. They are trying to do something I think is desperately needed
in this city. It's an independent gallery taking risks, and in turn
promoting contemporary, local, and challenging art work. I like that
they bring New York City to New Haven, and that they hold events in
which artist can get together informally and discuss, encourage, and
inspire each other (continued below).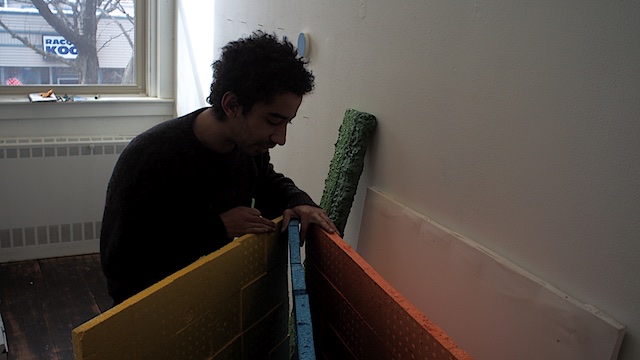 Some of the materials Noe´ uses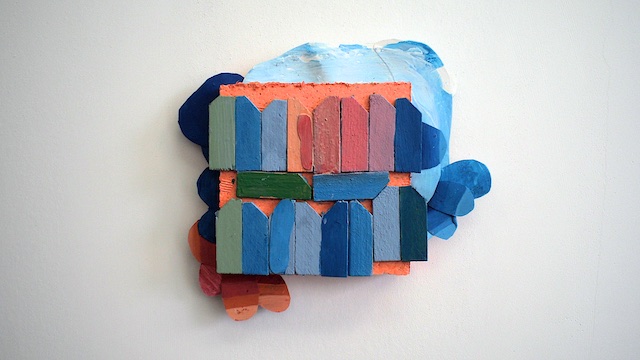 A finished piece hanging on a wall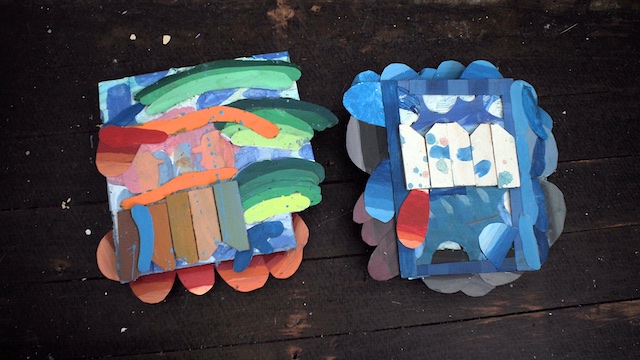 Two more completed works ready for the wall
(continued from above) I'm
also excited about what is happening in Westville at West River
Arts/The Range. By opening artist studios on the west end of New
Haven we now have artist studios in almost every corner of the city.
After losing so many institutions, studios and galleries in the
recent years, I like seeing these things popping up by independent
New Haven people. There are also many places and people, outside of
the art scene, that are great for artist to explore. I don't think
I've ever been to Edgerton Park and can't remember not being
flooded with new inspiration and ideas!
DV: You can see more from Noe on Instagram by following him @Boboskribs (https://www.instagram.com/boboskribs) and contact him by e-mail at noe.jimenez@aol.com