On this blog I've predominantly featured New Haven artists and their work
communicated through the context of my studio visits and interviews.
However, there's more that New Haven artists are doing that surpasses
the scope of just creating artwork. No Pop is one example of a couple
of artists coming together to add to the landscape of new and
independent galleries and studios. In addition to making art
themselves, they provide a space to promote art-making and dialogue
in our community. I recently got to visit just before their previous
installation was taken down and hung out with co-founder Laura Marsh.
Come along and check out this studio/gallery space thats calling New Haven home: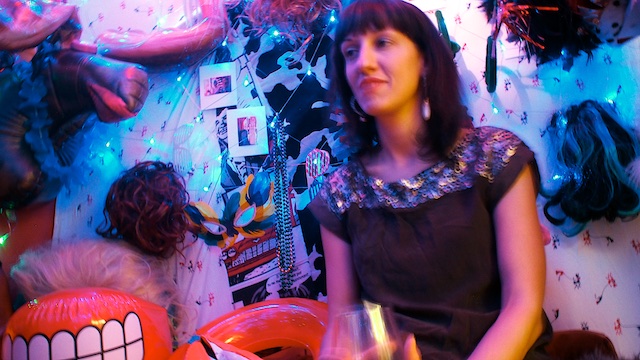 Laura Marsh in her Lady Cave Installation
DV:
Who started No Pop and how long has it been around?
LM: No
Pop is a collaboration between me and my husband, Phil Lique. We are
two artists who have moved a lot. Since we believe in everyday
practice, we decided that a work/live space is for us. We kicked off
our new space in October 2015 with the theme of experiential
sculpture. The work of fellow artists Aude Jomini and Michael
Queenland was featured. We admire their approach to transformative
and free associative making, and we began our first conversation
(Conversation I) by inviting them into the studio. Conversation II in
December 2015 represented both Yale and New Haven artists, bringing
them together to focus on saleability and conversation building. We
are now working on additional Lightbox submission opportunities (an
evolving back-lit piece) [editorial note: the Lightbox is a back-lit
display hanging outside of the No Pop gallery street level] as well
as future curatorial opportunities.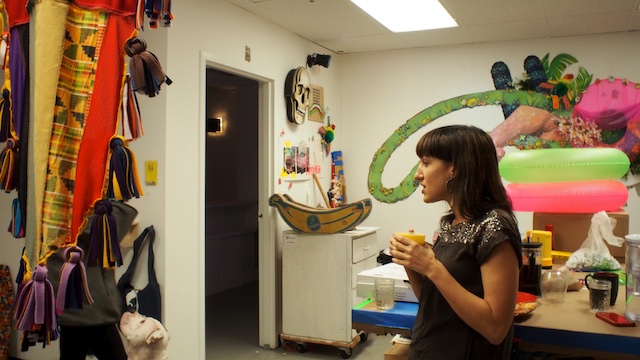 Laura in the studio space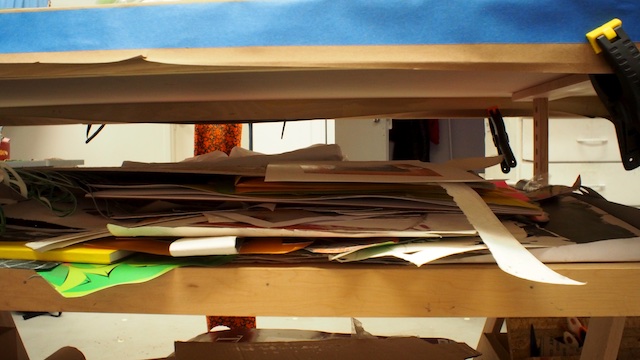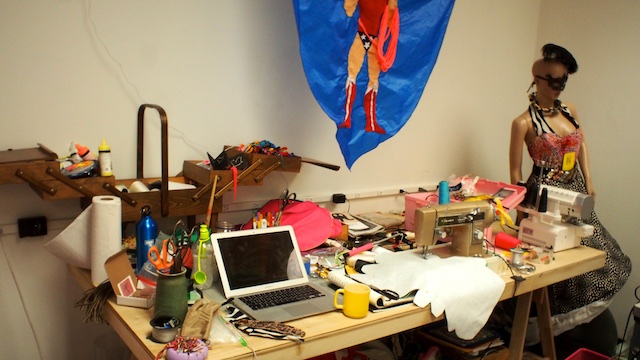 Part of the work space in the studio section of No Pop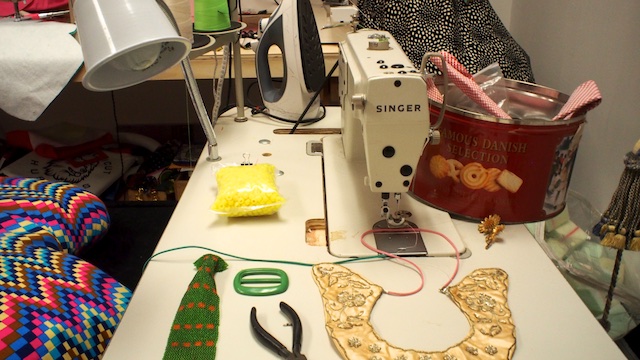 DV:
What sets No Pop apart from "traditional" gallery spaces?

LM: No
Pop's philosophy aims to pair art with other palpable experiences
such as sharing a meal, going to a clothing swap, or taking a class
while viewing art from individuals. Traditional gallery spaces have
dual roles to contextualize and sell art; we aim to transform this
model by focusing on promoting experiences while selling art. We also
periodically partner with other galleries and institutions like
Artspace on programming for City-Wide Open Studios and private
events.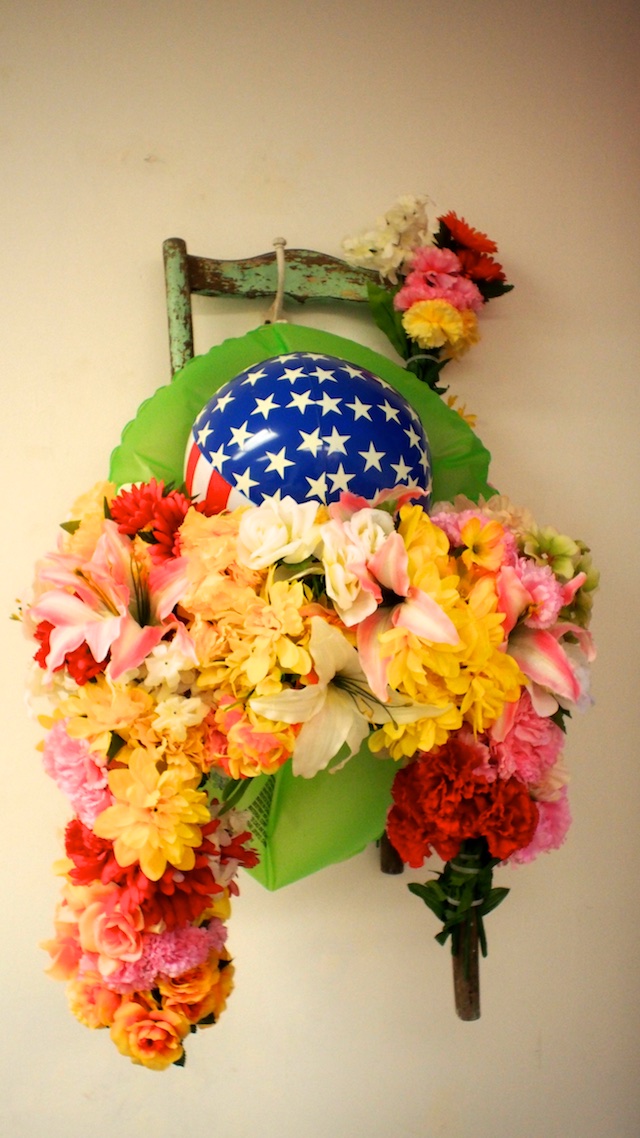 A

Phil Lique installation in the gallery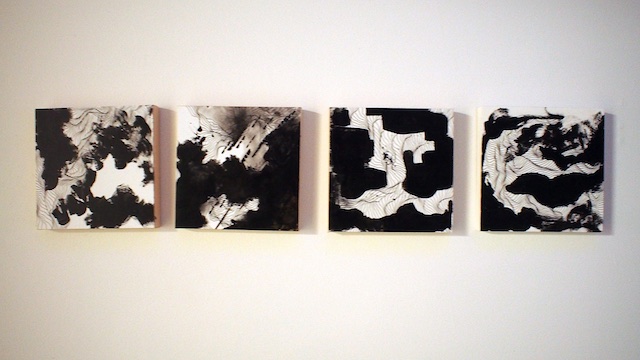 Four Tracie Cheng panels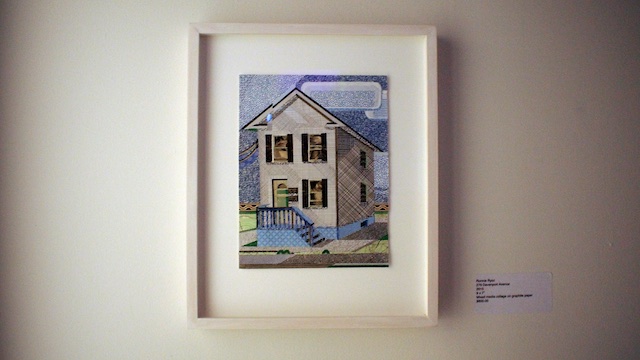 A Ronnie Rysz collage
DV:
What sparked the initial idea to start No Pop? Why New Haven?
LM: We
make flags, installations, wall paintings, and sculptures. We need
space as artists from working class backgrounds, and we teach. Our
goal is to combine these practices and backgrounds all under the same
roof. New Haven is unique in its diversity and disparity. If you're
part of Yale, you discuss race and social class in a bubble
completely ignorant of the poor and working class neighborhoods
around you. If you are not part of Yale, you are surrounded by wealth
and inaccessible academic culture. We do not compare New Haven to New
York, it is not lesser than and is it's own amalgamation of
cultures: it helps us create an image independent of Yale.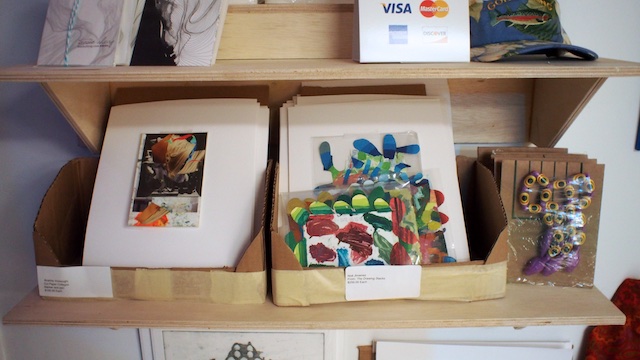 Small original works by artists in the shop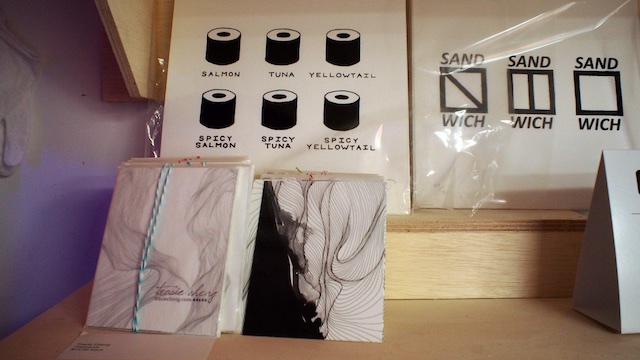 Another shelf of the shop with post cards and prints
(continued from above) I am a Yale alum, and I am pro-shaping communities. I do not believe
that there is one master community, yet instead, many possibilities.
Artists today accept multiple roles in the arts and are faced with
the reality that sustaining a practice and paying rent is possible in
mid-sized cities, which are also growing their art initiatives. We
aim to partner with sister and brother projects in New York and other
cities to expand our reach while supporting a reengaged New Haven.
Consider us the newest art venue that aims to be approachable.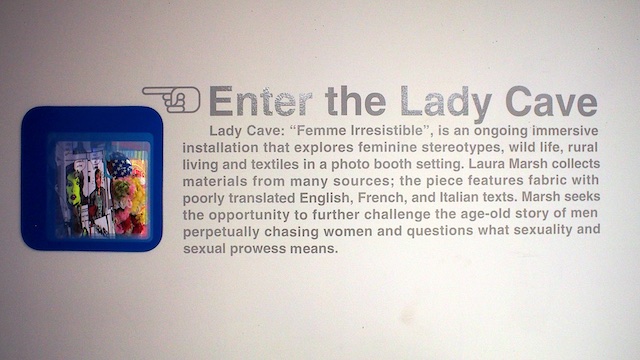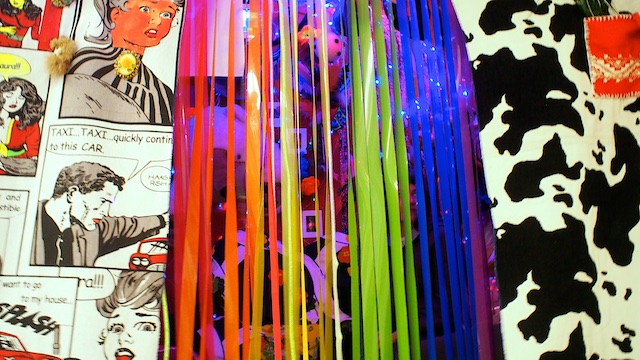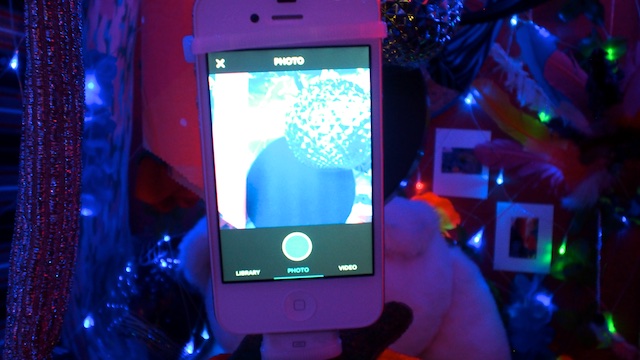 Inside of the Lady Cave
DV: What's coming up that people should know about? Anything happening
in May?
LM: Our
next event, Body Doubles, which opens on Saturday May 7th,
6-9pm, is a series of videos with artists who incorporate bodies and
commentary into their performances and videos. We're working with a
fellow Yale artist and colleague, Sarah Lasley, along with
independent and local curator, Selby Nimrod. This is our third
conversation, bringing in the missions of other artists and curators
to keep expanding the dialogue. In May and June we will release a
series of Pants Destroyers, zines made on a traditional Xerox machine
and sold affordably. We run an open submission for content and
participation. Our goal is to present self-sustaining opportunities
and sales that promote the production of new projects.
For more info from No Pop you can find them here: http://www.nopop.gallery